Blog
>
Waterboys Newsletter DECEMBER 2018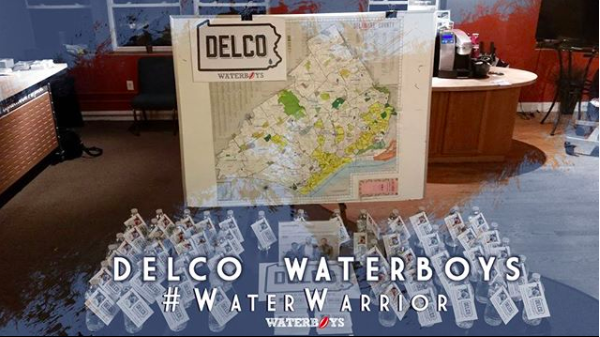 Waterboys Newsletter DECEMBER 2018
1 in 9 people.
844 million people around the world lack access to clean, safe water.
Which means a staggering 1 out of every 9 people is impacted by the world's clean water crisis.
When access to clean, accessible drinking water is scarce, the time lost to gathering water and suffering from water-borne diseases permeates everyday life and limits people's true potential.
What we realized three years ago and still holds true today is life depends on water, and the well depends on YOU.
Through the construction of our sustainable deep borehole wells, over 200,000 people have received a life-changing resource and a renewed sense of hope for their futures. Each of our wells is constructed with solar paneling to provide renewable energy. This sustainable power source means our wells can continually pump clean water. And through this clean water, there are increased opportunities for education, economic pursuits, food security, and time that communities don't have otherwise.
This is progress, but in a country like Tanzania where 50% of the population is still without access to safe water, our work isn't done!
In this season of giving, I'm here to remind you that a gift of any size will deliver hope in Tanzania. In fact, just $6 can send a child to school, restore economic independence, and even save a life. When you donate $30, you're providing economic and health advantages to an entire household. Remember, your donation is also contributing to valuable hours saved and miles walked!
Thank you for helping us change the conversation about the clean water crisis and what is possible when athletes, teams, and fans come together for the greater good!
With deep appreciation,
Nicole Woodie
Executive Director
Waterboys
Well Warrior: DELCO Waterboys
Located in the Eagles homeland, George Volz noticed a great opportunity leading up to the first game of the regular season to rally his community of Delaware County and start his own Waterboys fundraiser. Approximately 10 days before Game 1, in September, George and a group of his friends hit the streets of Delaware County to spread the word about Waterboys work in Tanzania, and the power of clean water in these communities. This focused team of clean water advocates jumped into action and raised over $20,000 in just over week. Thanks for your partnership in Philly, DELCO!
Athlete Feature: Malcolm Brogdon
Waterboys is honored to have Malcolm as the NBA founder of the Hoops2O program. Hoops2O recruits players from across the NBA to raise funds and awareness for clean water initiatives in East Africa. Malcolm was joined by four other globally conscious NBA players – Justin Anderson, Joe Harris, Garrett Temple, and Anthony Tolliver (now known as the Starting Five). Through Malcolm's leadership and the contributions of the Starting Five, the program has raised over $94,000 since it tipped-off on October 29th. Learn more about Hoops2o here!
Vote for Long!
The Eagles recently announced Chris as their nominee for the Walter Payton NFL Man of the Year Award. This is the second time Chris has been nominated for the Man of the Year, which recognizes a player for his excellence on and off the field and acknowledges the NFL's commitment to philanthropy and community impact.
Fans can show their support for Chris by using #WPMOYChallengeLong on Twitter between December 6 and January 13. The player whose hashtag is used the most will receive a $25,000 contribution to their charity of choice. Help us Vote for Long!