Blog
>
Water Warrior: Doug's Well Water Dream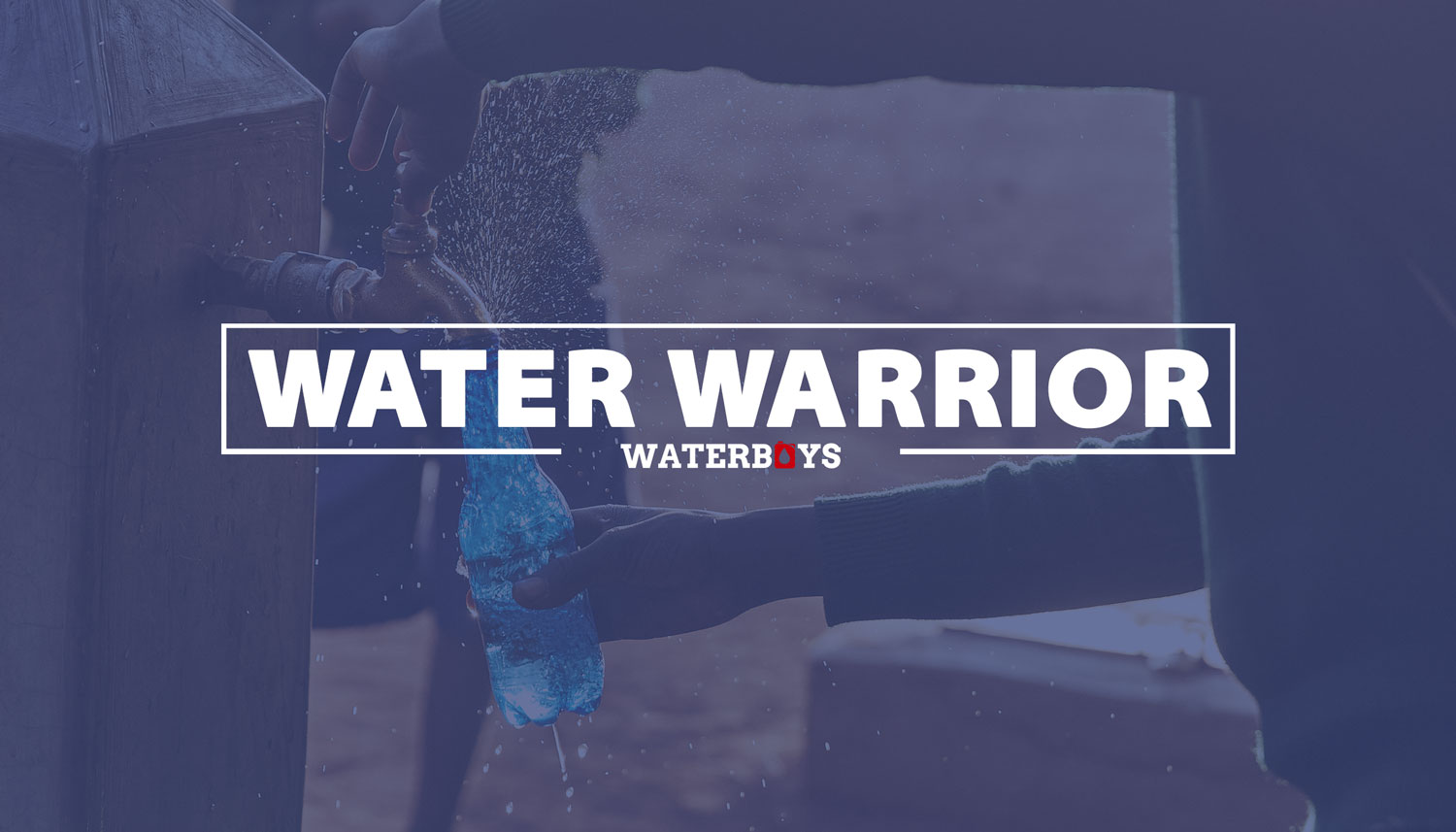 Water Warrior: Doug's Well Water Dream
Sometimes the best birthday gift is the gift of helping others. Just ask Fiona Nagle and her boyfriend Doug Green.
An environmental scientist with a doctorate in environmental dispute resolution, Nagle is quite familiar with issues of water scarcity around the globe. And while she is passionate about the cause, she says Green surprised her one night with a comment on the issue.
"We were watching the [Cleveland] Browns versus [Kansas City] Chiefs game a couple weeks before the Super Bowl, and there was a promo about the upcoming Walter Payton Man Of The Year award," Nagle says.
"Myles Garrett was spotlighted and when he came on, he talked about his work with Waterboys. Doug says to me 'If I had an extra billion dollars I would put it towards water scarcity and dissolve that entire problem.' I was very surprised because water scarcity isn't typically a topic I've seen him passionate about, so I was shocked to hear that he had a real interest in this issue."
But one night during a discussion around his birthday, Nagle had an idea for the perfect birthday gift. Green's late-January birthday was going to be markedly different this year due to circumstances, but Nagle explains that they decided to make the best they could of it.
"He's very philanthropic and he's very generous, he has this massive, massive heart and these huge shoulders, so I thought if we could do some kind of a fundraiser for his birthday, he would really like that," she says.
Nagle says she immediately thought back to the Myles Garrett segment and remembered Waterboys.
"I liked that Waterboys has really broken down the monetary contributions in a very easy way for people to give. $8 to give water to one person, $30 to give water to a household; it's very easy to contribute that way and understand how your contribution can make a very real difference," she explains.
The NFL connection was another aspect that appealed to Nagle for a very specific reason.
Green and his father, Moulton, were both massive Kansas City Chiefs fans, something that had really been a big part of their relationship. Sadly, his father passed away only a few weeks before Green's birthday, and Nagle felt that Waterboys' NFL relationship was the final piece of the puzzle that solidified the idea for a birthday fundraiser.
"It was a secret, Doug had no idea I was doing it," Nagle says.
"We had hosted an online New Year's Eve party, and so I sent an Evite to that same group of our friends and explained what I was thinking, telling them what was going on, why I was doing it, who the Waterboys are, and just told them 'Whatever you can contribute would be wonderful. And don't tell Doug,'" she says with a laugh.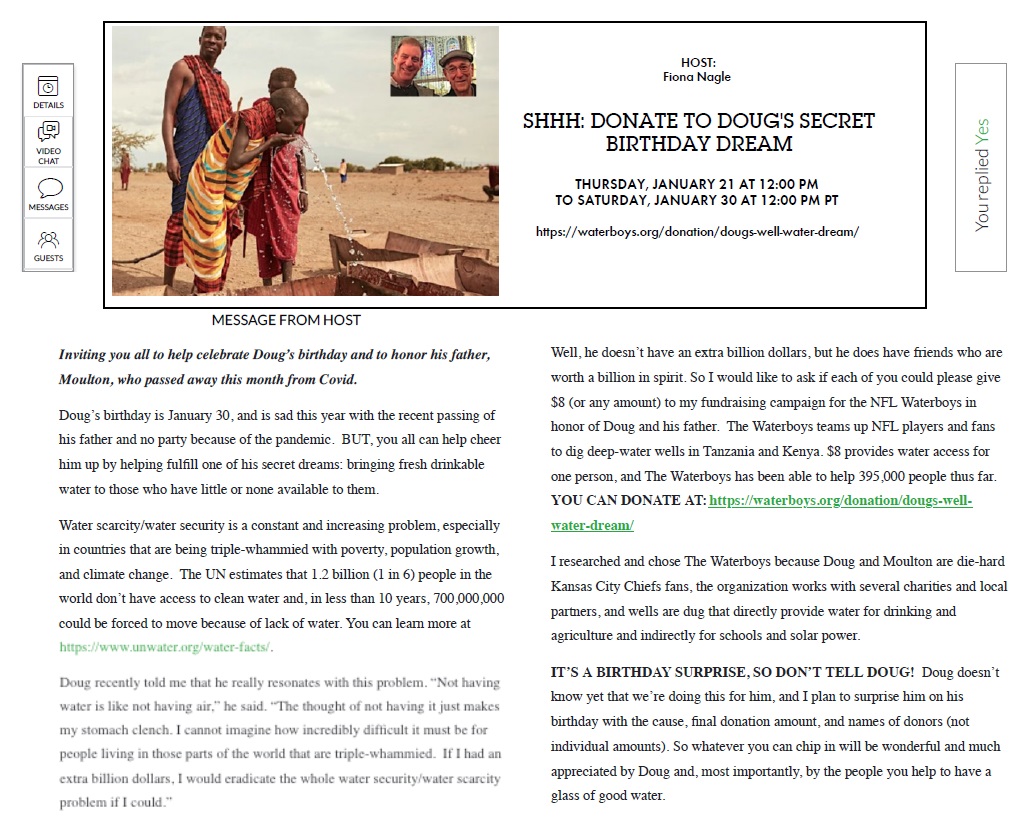 The initial fundraising goal was a simple one: If each of the 60 friends on the Evite list contributed $8 – the amount it takes to bring clean water to one person – they could raise $480 for clean water.
But they didn't hit their goal. They blew right by it.
"I didn't know if we were going to make it, I had no idea what we were going to do," she says.
"And then all of a sudden within three days, we surpassed that goal. So I said 'Ok, let's up it.' Moulton was 92 when he passed, so I did $8 × 92 and set the new goal $736. I said, let's reach that goal. And then we blew past that within two hours."
By the time the birthday fundraiser ended, the group had raised just shy of $2,000.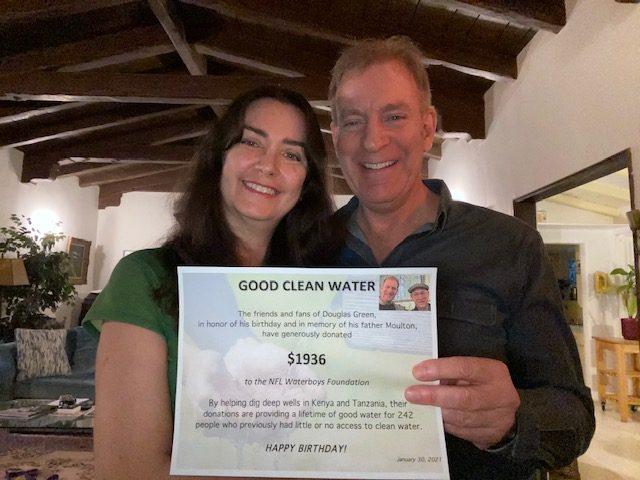 "On his birthday I designed a certificate for the amount that was donated and I printed out what I had written on the Evite and the Waterboys campaign page and then I printed out the names of all our friends who had donated. It was midnight and I told him I have one more thing for your birthday, and I handed this to him. He started reading it and when he got to the end of it, he was just speechless and welled up," says Nagle.
"He said that it wasn't just that all of these people donated for his birthday, but also that it was a tribute to his dad. That aspect really pierced him through the heart."
Nagle says that the response from not only Green, but from their friends as well, was incredible.
"The fact that people felt so good in such a miserable time, with COVID, the lockdowns, the personal situations, to be able to do something like this really gave people a boost, it really gave them that little spark of life," she says.
She goes on to say that during these strange and difficult times, the need to connect and take care of one another is more important now than ever before.
"It's about creating those moments, because they're certainly not being handed to us, and everyone is being affected," she says.
"I think you have to be able to try to pull yourself out of it and create something that is positive, and maybe that's one of the lessons we learned from all of this. It's about finding a way to keep connecting, and connecting, and connecting. Even if we can't be physically together, but connecting on an emotional or spiritual level, it's not hard. You just have to be creative about it."
---
Our Water Warrior series is a monthly feature article highlighting a donor/supporter that has made significant contributions to expanding the impact of the Waterboys mission to bring clean water to individuals and communities in need. Water Warriors and fans like you that get involved with our mission are integral to our success.